Welcome to the new "home" for GlutenFreeGobsmacked!
I've owned this domain for years, but for some crazy reason, I never left wordpress.com.  Well, I bit the bullet now.  It took a bit of a migraine to get everything over here and things may not be exactly the way I want/need them to be, but for now it works.  I'm going with "works".  There are too many other things in life to worry about (I'm a bit of a worrier) than a website.   That is for sure!
I thought my first post here would be a recipe for this delicious Cinnamon & Honey bread that I made this winter a few times.  It's so good – and makes the best bread for sandwiches.  (And I know I shouldn't say this as almost everyone toasts their GF bread and wishes for the delectable NON-toasted bread – but wow, I love it toasted with peanut butter too. )  I even have another recipe in waiting:  gluten free pumpkin muffins.
The sad news there?  They are so good, I never get a picture in time! I did make a mini-loaf with the same pumpkin muffin recipe and that one lasted a bit longer (thanks to the fact that I hid one for my lunch!).   The muffin kick around here has made lunch packing super easy for me too.  The mini muffins fit perfectly into their little bento boxes with some fruit and cheese.  And done.

My sweet husband brought the girls to the grocery store last night after work.  We haven't been in more than two weeks (thanks to the flu).  We were literally out of everything but milk.  The fridge is now stuffed to the gills and there is enough fruit and fresh vegetables to kick this influenza to the curb.  He even picked up some fresh blueberries for me and the girls.  But since he also picked up a pack of blueberry muffins from the bakery for the girls, I started craving blueberry muffins.  And then I remembered this super easy recipe I made last summer a bunch of times.
It's perfect.  Not too sweet (some muffins should just be called cupcakes, in my opinion).  Not too big (again, mini muffins rule the world here). And quick to make (like all muffins should be!)
I do use gluten free oats in this recipe.   I only use certified gluten free oats as the cross-contact concerns are real.  Please feel free to substitute the oat flour in this recipe for brown rice flour and rice bran (50/50).
To make the oat flour, I just put a cup of oats into my food processor and whirled away until ground up nicely.  To make the oats less "bumpy" as my girls say, i soak them a bit before adding them to the mix.  Adding them directly makes for some chewier spots in the muffins which is a bit of a distraction for the Littles in the house, just a head's up.
Happy gluten free muffins to you and yours -
Enjoy!
Kate
Best Ever Gluten Free Blueberry Muffins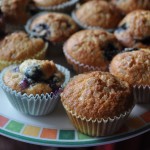 By cheekychica Published: February 13, 2013
Yield:

1 dozen large muffins or 3 dozen mini-muffins

Prep:

15-20 mins

Cook:

12-25 mins

Ready In:

27 mins
A every-so slightly sweet fluffy blueberry muffin that will keep you coming back for more.
Ingredients
Instructions
Preheat oven to 350F.
In a small bowl, soak the oat flour in the 7-Up or lemon mineral water. Set aside.
Mix together melted butter, applesauce and sugar.
Add the eggs.
Add dry ingredients (GF flour mix, baking powder, salt)
Add soaked GF oat flour and the lemon extract.
Fold in blueberries.
Fill muffin cup liners 2/3 full. Sprinkle the tops with the demera sugar (or with a little cinnamon sugar if preferred).
Bake for 8-12 minutes for mini-muffins or for 18-23 minutes for regular/standard sized muffins. Bake until golden brown on top AND a toothpick inserted will come out clean when removed.
Cool for 5 minutes or so before pulling off muffin paper and digging in.